Edgefield Preservation Association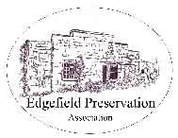 Edgefield Preservation Association
104 Courthouse Square
Edgefield, SC 29824
803-637-4010
EdgefieldSCPreservation@gmail.com


---
This event has been postponed until Saturday, October 20, 2018. Please check in periodically for updates.
​
Spring Tour

Saturday, April 21, 2018
The Edgefield Preservation Association (EPA) is dedicated to preserving and enhancing the unique historic properties of Edgefield County, South Carolina, through education, communication, and community involvement. The society is seeking volunteers to become members of the EPA and assist in saving and maintaining Edgefield County's rich history.

The first big project of the EPA is the restoration and preservation of the Edgefield County Chain Gang Camp building and cemetery. The Edgefield County Council has graciously given EPA permission to begin cleaning up and assessing the needs of the Chain Gang Camp. The property has been neglected for twenty or more years and it has a story that needs to be told.

The building was erected in the 1930's from locally quarried granite and is truly an architecturally unique structure. There is a cemetery nearby that was used as a burial ground even before the camp was there. Residents of the poor house (located across the street), inmates on the chain gang, and indigent drifters were buried there from the early 1930's to as late as the 1990's. Sadly most of the graves are unmarked and overgrown.

The EPA is also involved with helping maintain the Phoenix Factory's Old Edgefield Pottery building, the Village Blacksmith Shop, and Willowbrook Cemetery. All of these sites are important to preserving Edgefield's remarkable history and drawing visitors to the town to promote economic growth.

As a fundraiser project, the EPA is holding a Spring Tour on Saturday, April 21, 2018. There are various interesting sites to visit, including the Edgefield Chain Gang Building and Cemetery, the Phoenix Factory's Old Edgefield Pottery, the Village Blacksmith, and Willowbrook Cemetery. Registration begins at 8:30 a. m. at the Tompkins Library, 104 Courthouse Square, Edgefield, SC. At 5:30 p. m., there will be a Wine and Cheese Reception at the Tompkins Library and a guest speaker, Dr. Timothy Drake, will speak on "Using Construction Techniques and Building Materials to Determine the Age of Historic Structures in South Carolina." There will also be a silent auction and raffle drawing.

The cost of the tour is $25.00 for non-members and $20.00 for members. Children under 12 years of age are free. This will be fun and educational for the whole family. Tickets are on sale now at the Tompkins Library, 104 Courthouse Square, Edgefield, SC. There is a limited quantity, so get your tickets today!! For more information, please contact Tonya Guy at 803-637-4010 or visit the OEDGS website at OEDGS.org.